Wedding Traditions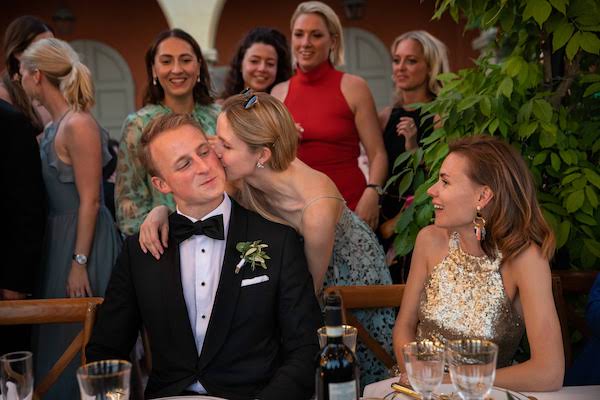 If you are planning a "Bröllop" in Tuscany, you might want these traditions on your big day.
A brillian way to personalize your celebration might be integrate some Swedish wedding customs into your destination wedding in Tuscany.
Sweden, just like any other country, offers a set of interesting wedding customs that worth to be mentioned!
The Swedish wedding traditions have been passed down through the generations and we think that these customs are unique and charming.

Let's see few of the Wedding Customs that we had for Stella and Florian's Wedding

1. Walk the aisle
Instead of the usual father-daughter moment, the bride and groom usually walk the aisle together. This because due to the egalitarian nature of the Swedish society, the Church discourage the gesture of the father giving his daughter away as in Italy for example.

2. The Brides' Toast!
Proposing a toast to the newlyweds is the first thing that happens when the couple arrives for the cocktail hour and all the guests are gathered. Everyone raise their glasses and cheers to the bride and groom. Traditionally, champagne or sparkling wine is served. If the speech is done during dinner, Swedes choose snaps!!

3. The kiss game
This is amazing. After the bride and groom share their first kiss as husband and wife, seems acceptable for them to kiss other guests during the day! When the bride makes an exit, all the women will get up to kiss the groom!! The same for the men, when the groom leave the room! This is a super fun tradition!

4. Bridal Bouquet Toss
Sorry single ladies, during a Swedish celebration, the bride keep the bouquet to herself!!

5. Wedding Speeches
Swedish Wedding are well known for so many speeches!
Usually quite all guests invited share their well wishes to the bride and groom. There is always a toast master that coordinate these matters! Speeches will accompain the whole dinner!!

These are some of the Swedish traditions, we are sure that there will be many others but these seemed the most important and fun ones.

Back to Blog