The wedding bag: a personalized gift for your guests
The wedding bag: a personalized gift for your guests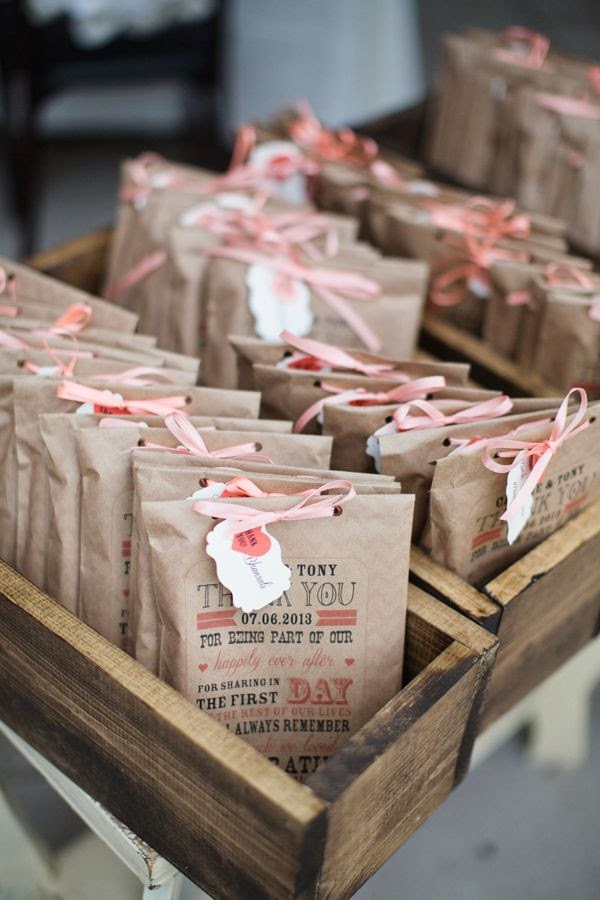 The wedding bag, is a trend that we have imported from the United States and that is becoming more and more popular in Italy as well. Itís an orginal detail that you can add to your special day; something that guests like a lot because it is a sign of personal attention they receive from the bride and groom.

Unlike the wedding favour, you give the wedding bag to your guests at the beginning of the wedding day, precisely as a welcome sign. Bridesmaids can hand them out to people, or you can decide to create a properly decorated table where you put all the bags that people will take by themselves.

The welcome bags can be entirely part of your wedding decoration, as they should follow the theme that you choose. You can create them according to the mood and the style of your wedding and in this way they will become a unique detail of the event.

Paper bags are usually the first choice, but you can also decide to use fabric bags, or opt for boxes of recycled paper or small wicker baskets. If you customize them with the logo of your wedding, the date and your names, you will make them become a longlasting memory of your wedding.



Talking about what you could put inside the bags, could take a while because there are thousands of possibilities. The most common use of the bags is to put inside things that the guests will be using during the wedding day, such as the program of the event, a soft drink, or a bottle of water, a fan, some wet wipes, a disposable camera, a photobooth disguise set.

If yours is a destination wedding, and you have chosen a destination far away from home, which your guests donít know at all, you can use the welcome bag as a container for gadgets that remind them about the place they have been to. A great option is food, like olive oil or a little bottle of red wine, if you get married in Tuscany. Any other object that is strictly related to the territory, as a craft product for example, would be perfectly fine.

To give an even more special attention to your guests, you could think about having two kinds of bags, one for men and one for women, with different packages and contents. And donít forget aobut kids! You can create welcome bags dedicated to them, with coloured crayons, play dough, soap bubble, paper hats and balloons. Youíll make them happy!

If you want to have wedding bags at your wedding, make room for imagination. You can either unleash your creativity or leave this pleasure to us!

Back to Blog