The copper style for the new season 2018
The copper style for the new season 2018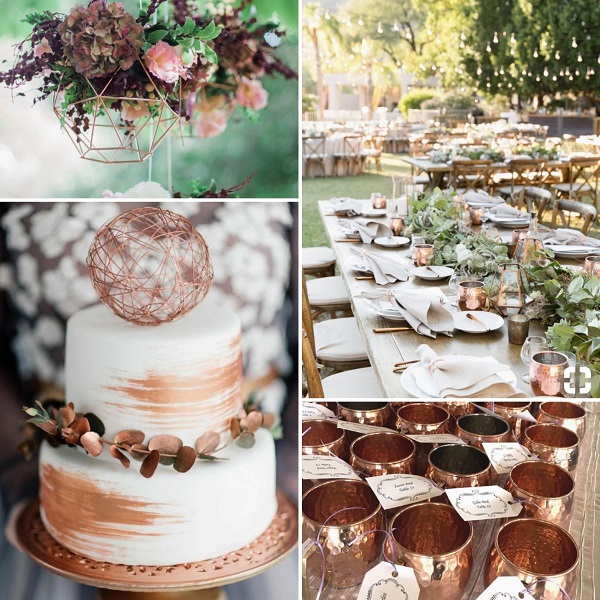 The new season is almost here and we can now say what will be the trend of our brides for this 2018, just some anticipation to not detect in full the design work that we are carrying out . Last year we ranged in styles and colors, we went from the brightest tones to the darker ones but still elegant and in tune with the Tuscan style! This year, however, the undisputed colors will be copper and gold. The fashion of the copper wedding has arrived and in fact it will be the protagonist of our 2018 events! This tendency is found in the choice of the palette and decorations. With copper it is mostly identified a very elegant bronze / copper tone, especially if matched with gold.
The greatest attention will certainly be given to the mise en place, where you can indulge yourself with a lot of details. In the case of copper, free way to candelabra, vases, tablecloths or runners, underplates, but also rimmed glasses or bronze cutlery, every little detail can make the difference and can give a touch of color to your table.
This year there will be flashy details, we have wives who have decided to dare .. but we do not want to anticipate everything!
The palette will then become the leitmotif of the entire event! Nothing will be left to chance, even the wedding cake cannot fail to bring back the colors of gold, whether it is a glaze, a flower or a ribbon! Why not, a gold or bronze topper will give to the queen of the evening a chic tone! Never underestimate the importance of decorations because they define the character of the event. And if you want to end the event in glamor, the Moscow Mule cannot miss in the decorations of your wedding! It is indeed a small copper cup where your cocktails are served during the open bar !!
Decide on your palette and we will give you a lots of ideas and we will create the right design for your event!

Back to Blog