Greenery: color of the year 2017
Greenery: color of the year 2017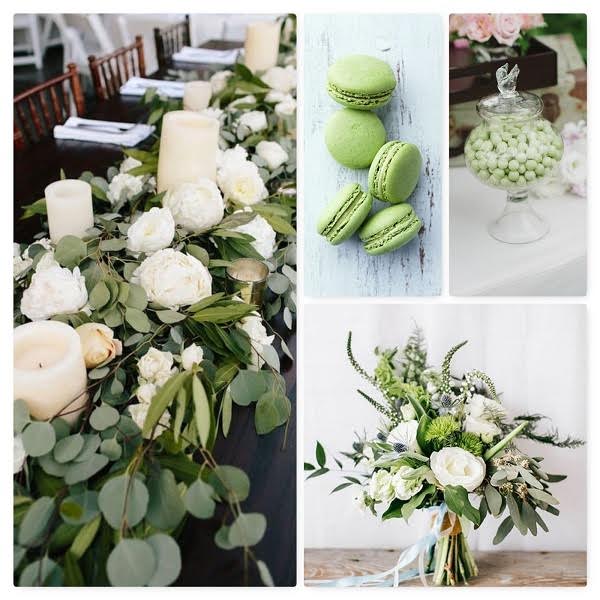 As every year Pantone, the design world's leading color authority, announced its color of the year for 2017. Among other colors, such as Lapis Blue, Primerose Yellow, Hazelnut, Pale Dogwood, Island Paradise and Flame, Greenery got the first place. And this involves weddings as well.
To avoid any confusion about which kind of green is the greenery color, we quote the definition uploaded on the Pantone's official web site:
"Greenery is a fresh and zesty yellow-green shade that evokes the first days of spring when nature's greens revive, restore and renew. Illustrative of flourishing foliage and the lushness of the great outdoors, the fortifying attributes of Greenery signals consumers to take a deep breath, oxygenate and reinvigorate".
Leatrice Eiseman, Executive Director of the Pantone Color Institute, gave her personal interpretation of greenery:
"Greenery burst forth in 2017 to provide us with the reassurance we yearn for amid a tumultuous social and political environment. Satisfying our growing desire to rejuvenate and revitalize, Greenery symbolizes the reconnection we seek with nature, one another and a larger purpose"
With this in mind, you can opt for greeenry as the main color for your wedding in Tuscany.
Grenery is energetic and lilvely and can be easily mixed up with other colors to get different kinds of settings and atmospheres. It symbolizes connection to nature and it is in perfect accordance with every natural shade. It can be both proposed in and elegant and formal way, or in a trendy and fully coloured mode.
If you are looking for a farm house, the thread of natural and organic is in tune with the greenery color; whereas you dream of celebrating your wedding in a villa or a historical house, the greenery color can easily be the protagonist of your wedding day, matched with white for a more elegant and formal effect.

Greenery makes a perfect match with forest green and dark olive green if you want to focus on the organic trend or on a total green outcome. A little of ecru will give a stylish touch and soften the total green effect.
Mixing it up with golden elements, the result will be glamorous; with white elements instead, you will get a more romantic atmosphere.
If you have in mind a stronger visual impact, we suggest you to use the greenery color together with lemon yellow and cyclamen, that are trendy colors for 2017 as well.
For a sophisticated atmosphere, you should choose light grey and pastel pink.
The greenery color can be easily adapted to a whole range of items that you will need for your wedding: invitations, wedding table placeholders, flower decorations and many other things. You can decide to use it for the wedding cake, maybe decorated with greenery leaves or even, entirely covered with green gumpaste and flowers ornaments.
And what about the sweet table? Don't you like the idea of a series of cakes and sweets in green-scale?
You can indulge in making decorations with leaves, fruits and flowers in greenery color, to be used for dinner tables, ceremony, reception and party areas. With candles and lights you can use natural leaves and greenery for hanging decorations.
Greenery can also be the dress code for yuor guests, who could be asked to wear a green accessory, or the color for your bridesmaids' dress.
It could be even more: you and the groom, could be wearing something green: shoes for you and tie for him, maybe.
If greenery resonates with your soul when you dream of your wedding in Tuscany, now you know that there are so many ideas you can choose from.
Just use your imagination!

Back to Blog