Bohemian-Chic a timeless wedding style
Bohemian-Chic a timeless wedding style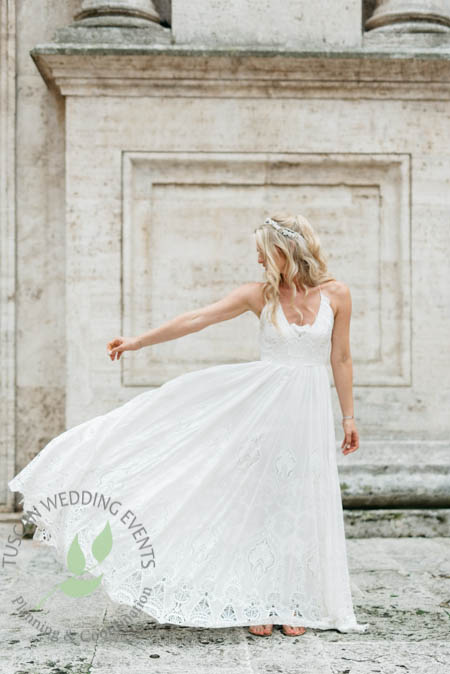 It has been a while since Bohemian-Chic weddings trend is on the rise.
This is because this style is timeless: it goes vintage, you donít need the latest fashion for a great outcome of your wedding day.
It is difficult to define this style for its many possibilities for variations and because it implies free expression and personalization. It can blend different themes like: rustic, vintage, gipsy, nomad, romantic. It has got hippie influences, recalling the hippie philosophy of love, peace and brotherhood.
As its name suggests, it is half bohemian and half chic. Itís chich as it implies smart elegance and sophisticated and fashionable style, whereas the term bohemian reminds to the non-conventional life-style of artists, musicians and actors of the 19th Century.
Bohemian-chic wedding themes are a mix of organic, colorful detailed, folk-inspired pieces and simple and moderm pieces. You are not confined in a style or in a single kind of decoration; you are free to adopt what best suits your personality.

You can use completely neutral colors with the ďshabbyĒ look to which you can add coloured flowers and outstanding details, retro or gipsy elements, without forgetting to be always elegant and chic. The balance is maintained using simple, linear and modern elements, as mentioned above.

Nevertheless, there are certain rules that you have to respect if you want to have a real boho-chic wedding.
First of all, there has to be the country vibe, and the location has to be immersed in nature and not too fancy.
You should choose a floral-based theme and the color range has to include neutral hues.
Seasonal flowers, preferably wild flowers, have to be collected in bottles or vases, both in transparent or colored glass; you can also use recycled containers. Greenery leaves, plants (maybe succulent plants) candles and mixed and matched elements have to be positioned as if by chance.
Natural materials like wood are to be preferred to syntetic components.
Another constant element is the wedding dress, that should be not too elaborate, but made from light, soft and fly around fabrics, preferably in a pastel colour and with plenty of lace.
The bride should wear flat shoes or sandals with a low heel or she could even go bare-footed.
Needless to say, the hairstyle of a Boho Bride should be natural: hair down or gathered in a soft braid with a coronet of fresh flowers .The make-up should also have a nude effect.
The bouquet obviously follows the same philosophy, preferring wild seasonal flowers, usually large and free flowing.

The bohemian-chic wedding is especially suitable for those couples who have an artistic drive, love nature and want to give an original and unique approach to their wedding; couples for whom imagination and freedom of expression are essential. If you like romantic style and hippie philosophy, and if you donít want to be tied down to univocal stylistic standards, then a boho-chic wedding could be your dream come true.


Back to Blog