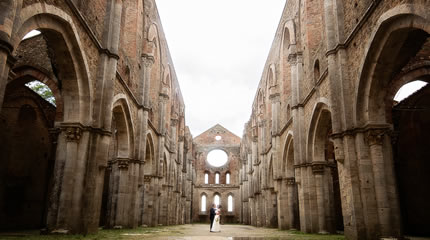 Get Married in San Galgano
We believe in dreams, and how we couldn't do that if we are the ones to give away?
If you are looking for a special and unique venue for your civil wedding, San Galgano is the ideal place where say "I do"!
The magical and romantic atmosphere that this roofless Abbey creates for your wedding in Tuscany is quite difficult to explain. Time seems stopped and the result is a dream wedding in Tuscany. It isn't common to say "I do" in front of a Major in an unforgettable setting.
To make even more memorable and unique this day would be to get married in the night! Oh yes, now will be possible to celebrate a civil ceremony in San Galgano at night under the stars!
What could be more romantic ??
In addition to say I do under the stars you could be the first to say to be married in the night! Around San Galgano we can suggest you few venues for your reception dinner and party!! Live a dream, choose San Galgano as your destination wedding!
Vitaleta Chapel
Probably one of the most photographed spot in Tuscany and Val d'Orcia. This romantic Chapel is located in the countryside! It's owned by a private so it's not possible celebrate religious weddings there but could be a unique frame for a symbolic ceremony, for a marriage proposal in Tuscany or for an elopement wedding in Tuscany! A special venue for a special day!!